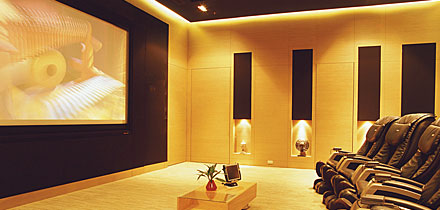 Home Theater
Home Theater is not a room, a big screen or an audio system: it is an experience. At Intuitive Integration we listen to your wishes and work to develop a home theater that fits the way you live. From dedicated systems to rooms to multi-purpose living areas, we will design a system that looks and sounds its best in your home.
Media & Multi-purpose Rooms
More of today's homes are built with open designs often incorporating kitchen, dining and family gathering areas. With so much going on, room space and flexibility become paramount. With the right combination of today's technologies, we can fit an entertainment system seamlessly into your home and lifestyle without sacrificing performance. (read more)
Theater Seating
Integral to the experience of home theater is comfort. Intuitive Integration offers custom home theater seating from Acoustic Innovations and Premier Home Theatre Surroundings providing comfort and style for any theater and for any budget. (read more)
Dedicated Theater
Go to the movies at home in the theater of your dreams. We provide all the elements of a truly custom dedicated theater including:
consultation and design services
construction and installation
room calibration and set up
Our turnkey service allows us to learn your wishes while educating you at the same time. The result is a room that is comfortable, looks beautiful, and truly outperforms your expectations.